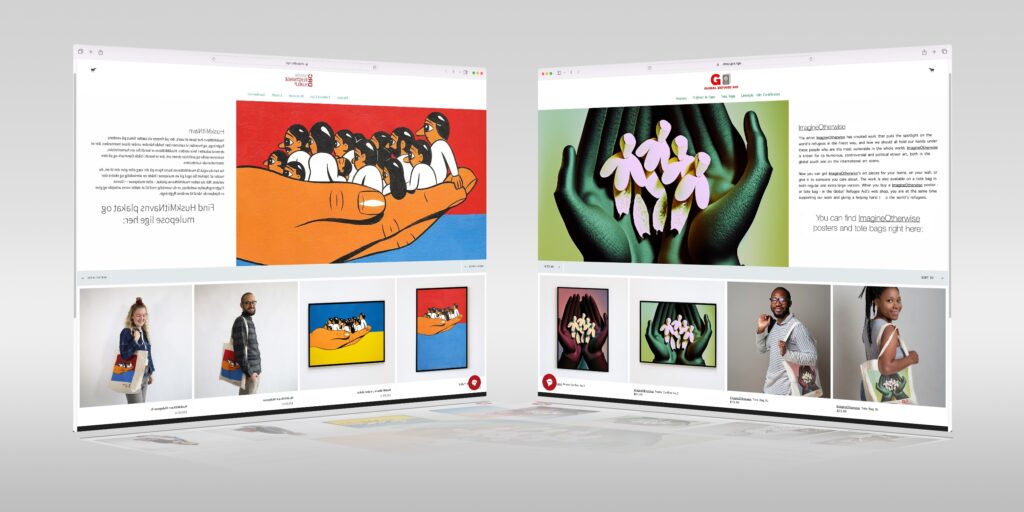 "Mirrors" from the Multimodal Commentary series
Every so often, I come across (visual) narratives that leave me puzzled. Multimodal Commentary is a series featuring pieces that help me think through these initial triggers and formulate a reply beyond words, using a variety of media and modalities.
Initial trigger (Left): Webshop of the private Danish humanitarian nonprofit organization Danish Refugee Council (DRC Dansk Flygtninge Hjælp), Screenshot taken in October 2023 
Multimodal Commentary (Right): Webshop of the fictional humanitarian nonprofit organization Global Refugee Aid (GRA). Image is produced by Anne Chahine with the help of Adobe Photoshop, InDesign and Firefly. Neither the website, the organization GRA, or the Artist ImagineOtherwise exist and are purely fictional. The images of all people and artwork displayed were generated using the AI tool Adobe Firefly. Any resemblance to actual people (living or dead) or artworks are entirely coincidental.